The 21:st event of Hellfire- Revenge of Anubis.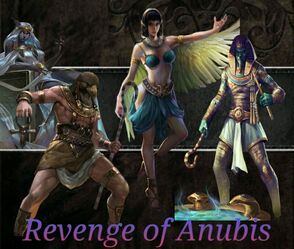 The Gods of the Old Kingdom have arrived to enact their revenge on the world of HellFire. Once praised and Worshipped by masses, the citizens of HellFire revolted against them centuries ago, casting them out of this world. 
Centuries have passed since that fateful day and the powers that held these acient forces at bay have weakened and decayed. Now Anubis and his followers have escaped intent on seeking revenge against all those who have wronged them.
Elites of this Event
Edit
| Evolution Stage | Ra | Isis | Osiris | Bastet |
| --- | --- | --- | --- | --- |
| 1 | Stats x3 | Stats x3 | Stats x3 | Stats x2 |
| 2 | Stats x3 | Stats x3 | Stats x3 | Stats x2 |
| 3 | Stats x3 | Stats x3 | Stats x3 | Stats x2 |
| 4 | Stats x4 | Stats x4 | Stats x4 | Stats x3 |